I know you are all probably sick of seeing these blocks, but I love 'em. I wanted to submit this particular one to the Quilt Story Block Party, and I need a blog posts dedicated to it :)
For stat purposes, this block is a simple 9-patch using Tufted Tweets by Laurie Wisbrun for Robert Kaufman. The center block is Kona Snow, and then a cushy fauteuil is embroidered to make the white more exciting, and to showcase a piece of furniture history. The whole collection can be seen
here
and
here
. I chose this particular chair for the block party because it is an iconic and timeless piece, and doesn't necessarily need a brief history lesson to be recognized as a chair.
So, there you have it. My submission for the Block Party!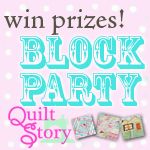 p.s. I've been working on some valentine-related skirts for my girls. I'm off to get elastic, and then I'll show you!