When I said I got to work using this sweet little machine, I wasn't kidding. I have another project to show you tomorrow, but today it is all about a sweet little quilt. I'm making you scroll all the way through to see the finished product, too :).
For this project I used the
4" Diamonds
die. First, just sandwich your fabric between the die and the cutting mat. I have 4 layers of fabric in there, but it can cut up to 6 cotton layers at one time! Anyway, use the hand crank to move the die through the rollers…
After a pass through the cutter, I had 8 diamonds already cut. Remarkable! There wasn't that much waste, and I even used another piece of this same scrap fabric to cut another diamond.
After getting a leeeetle carried away, I had a fine stack of yellow diamonds. I repeated the same process with some white fabric and had another stack waiting for me.
I set up the diamonds on my table in an alternating pattern. Then, I started sewing!
In order to get my edges nice and straight (or, as straight as my patience would get them) I off-set my diamonds by 1/4" before sewing.
Anyway, I got a little anxious and sewed half the quilt together, just to see what it would be like :) My edge pieces were diamonds cut in half, but I decided that it is better if I sewed on the whole diamonds and then trimmed the excess off afterward.
When the top was complete, I made a quilt sandwich. Then I used my large ruler to mark lines for my argyle pattern with a pencil. I've darkened some lines in this picture to show you what I'm talking about more easily.
Then, just pulling ribbon in place as I went, I sewed a bright red ribbon on top of those pencil lines. After no time at all (this is, after all, a doll quilt!) I was done quilting and argyle-ing in one single step!
So I squared up the blanket and added binding (red, or course!).
And now we have a really fun new doll quilt!
And baby Cinderella couldn't be happier, although the colors in this doll quilt tend a little more towards Snow White, don't you think?

She loves the back, too, which is a Monkey'n Around piece I had. They yellow and red are perfect!
How much fun is this? It would make a great baby quilt too, since the ribbons are tactile on top of the pieced diamonds.

I'm so pleased with this small, fast project that was made so much faster with my new Go! Baby machine. I'm officially hooked.
Don't forget to get your 22 FREE patterns from
Accuquilt
! Just sign up for their newsletter, and they're yours.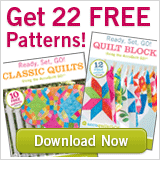 (p.s. Check back later this week for a special delivery for one of you!!)