With my Go! Baby and Diamond die, I also got the Circle die with 2", 3", and 5" circles.  For this project, I stuck to the 5", which was really convenient for all my leftover 5" squares from my zig-zag quilt… 


After sending the fabric through the cutter to get these lovely circles, I also sent some batting through the cutter.  I only did one layer at a time, but by golly, do I have perfect batting circles!
Layer 2 fabric circles RST, and plop one of the batting circles on top. 


Then, sew the layers together, leaving a 1/12" opening.  Small opening!  But doable! 


Pink your edges, or trim them so they are about 1/8", everywhere except your opening.  Trim your batting to about 1/8" so it eliminates bulk in the opening.


Ok, flip that sucker right side out, and give it a good ironing!  Make sure it is as nice and round as you can get it.


Carefully fold your opening edges in towards the center, making it curve like the rest of the coaster.  Iron to set your folds and keep them in place.


Stitch around the entire circle at 1/8", catching that opening as you go.  You can leave it as is…


Or add some fun quilting to make it more exciting.  I noticed that as I quilted, it didn't lay as flat.  I should probably iron it a bit more :)


Anyway, repeat as many times as necessary to get your self a set (or sets!) of fabric coasters. 


I think I'll have to make a little bag next to put them in, don't you think?


Or maybe let my kids play with them a bit first…


This is a really, really easy project- especially with my Go! Baby!   I cut lots of circles, for these fabric coasters and for another project I'll share another time… but it took me 5 minutes to pick fabric and cut 28 circles.  Yeah.  Mm hmm.
You won't be left out… for starters, get your 22 Free patterns when you sign up for Accuquilt's newsletter.  Fer reels.  Just click on the button: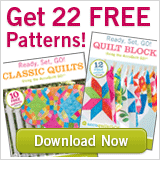 And then stay tuned…  I know you'll love what's coming!!