No, I didn't have a baby, yet.  But, I got a Baby delivered
to
me from the folks at
AccuQuilt
! 
As you can see, I've already been playing with my new Go! Baby a bit.  That pile of fabric is cut already and being whipped through my sewing machine.
And when I was done cutting out some projects, I just folded it up and slipped it into my craft cupboard.  Like it was meant to be there.  Seriously, a perfect fit!
The coolest thing was that before I even got the Go! Baby, I had already downloaded 22 FREE patterns to my computer.  They also give fabric requirements and cut instructions for regular rotary cutter and mat, but after using my new cutter this morning… I realize the benefit of one of these things.  It was ridiculously fast.  If you want the FREE patterns, just click on the button below, register your e-mail, and they are yours!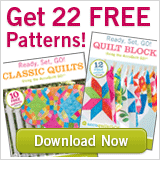 Like I said, I'm already putting this thing to work!  But more on that later :)  I have a few projects to share over the next week, so keep checking in!