This is a Sponsored post written by me on behalf of PHILADELPHIA cream cheese for SocialSpark. All opinions are 100% mine.
All right, so not all happiness comes from cream cheese during the holidays.  But simply put, I made some Banana Nutella Muffins and while heavenly on their own, they were knocked out of the park with some yum-o Cream Cheese frosting.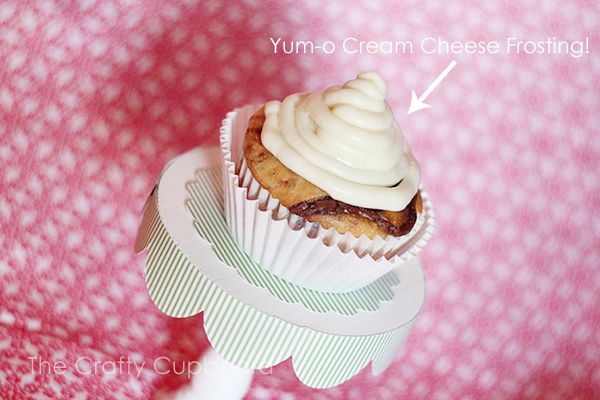 There are so many delicious things to cook/bake this time of year, and there are lots of great recipes online to try featuring PHILADELPHIA cream cheese.  I mean, doesn't Parmesan Crusted Salmon sound good to you? Thought so.  Salmon happens to be one of my favorite foods :)
Funny story... so most of my life I totally have not been a fan of Cheesecake.  Not because it wasn't delish, but because it was soooo rich. I could have one bite and I was DONE, and that's no way to enjoy dessert, so I never wanted it.
Then, I turned 27.
Not sure why this was a magic number, but recently I made some raspberry swirl cheesecake cupcakes using the real Philadelphia brand, and out of a batch of 24, I think I ate 21.  No, I'm pretty sure I did; Mike had 2, and his mom had one.  And I ate the rest.  I can now officially say I like cheesecake.  Love it, as a matter of fact!  I am going to start pinning  PHILADELPHIA cream cheese recipes on Pinterest... you should too!
So, try that delish salmon dish with raspberry swirl cheesecake for dessert in your holiday entertaining; I am sure it will be a hit!  Or call me and I'll eat the entire thing for you :)